---

Altru, Grand Forks - The First Altru in Grand Forks with Intellectual Rights on the World Wide Web
---

Copyright © 2008 Doug West All Rights Reserved
Altru, Grand Forks, Katie West Death
Welcome to the Altruism Network at Altru.net. The blue navigation bar on top guides you through individual sections. Each section has its own tabbed menu for browsing pages within that section, and a search box for searching pages and content of individual sections.
---
Actual Events from the 1996 Katie West Suffocation Death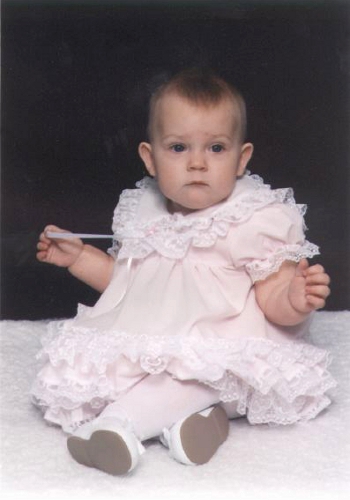 Katie West, Suffocated To Death In 1996
---
911 Call by Doris McMillan from 701-775-9990, 5:18 p.m.
Sunday October 27 1996, 1409 Walnut Street, Grand Forks
Saturday October 12 1996
Katie was said to be Sick at this time
Katie West wasn't taking breaths during this sketchy 911 call because she was already dead most of the afternoon. Doris McMillan recently finished a rather lengthy career as Don Olson's Legal Secretary with Camrud Maddock Olson & Larson, Ltd., before babysitting became her monthly income, where Katie suffered past injuries in her care. That law firm's President fabricated information about this website in a bullying attempt to hijack the domain, stating Katie West died in both a hospital and ambulance but she was dead at 1409 Walnut.

Kim Bolek, a Nurse with the Grand Forks Clinic, was on scene and Katie West was many hours dead. Before the 911 call at 5:18 p.m., Kim Bolek fled the scene with two individuals, one of them being Shauna McMillan, who repeatedly threatened to murder Katie West. The death is a matter of open record in the State's Attorney's Office.
Katie West obviously was not sick over the past several weeks before her death, as the Former ND State Medical Examiner, George Mizell said, which is why he is a Former Medical Examiner. George Mizell said Katie suddenly suffocated on her airway being closed off from Croup, but she didn't have a closed airway whatsoever. Mizell was told to write this on Katie's Autopsy report.

Tom Polovitz, Grand Forks County Coroner, and Local Authorities, told Mizell what to write on Katie's Autopsy report. Polovitz became Former Grand Forks County Coroner when learned he engaged in sick freakish acts on Katie's body.